Retreat Center Staff
Meet the wonderful humans who make all this work possible
Here to Help You Reclaim You
Welcome, friend! Thank you for coming to meet the lovely humans who make RHC function, breathe and thrive. Without them, we would not exist to serve you and your healing journey
Work in the jungle is wonderful and fierce simultaneously. It takes great sacrifice, humbling and dedication to stay for the long periods of time required to run our boutique Ayahuasca Retreat Center and Master Plant Diets Lodge.
Our staff rotates in and out to afford people time to recharge, be with their families, so you may not encounter everyone during your retreat, but know that they are there, working afar to bring you a comfortable, nurturing healing environment to do your highest work.
Retreat Center Admins
Our admins handle many things and wear many hats. From coordinating our Peruvian workers and their daily tasks to ensuring your experience at RHC is smooth and as bump-free as possible. It's a tall order in a country known for it's own rhythms and pace, especially in the Amazon rainforest where weather and critters call the shots.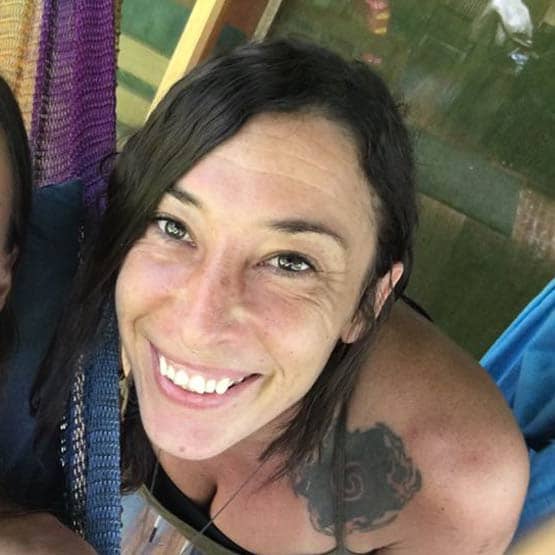 Cristina Muñoz - SPAIN
On-Site Admin
Cristina grew up in very challenging circumstances, without a stable family life. As a teenager she tried to escape from her painful background by constant travel and drug use. This lifestyle lead to a deep depression, and during that time, she discovered ayahuasca. Ayahuasca provided Cristina with so much relief and healing, that she decided to travel to Peru to continue her powerful healing journey.
She has been in Peru since and worked with her maestro with many plant dietas and countless ayahuasca ceremonies. In addition, she traveled deep into the jungle to train with the Matses indians to learn the traditional application of Kambo medicine. Of the many profound teachings Cristina has received from medicinal plants, one teaching has transformed her everyday life: "we all have the capacity for forgiveness in our hearts, no matter how severe the pain inflicted on us."
Cristina works for Rainforest Healing Center because she has the opportunity to give back to the medicine in gratitude for the healing that she has received. Cristina is in service to the medicinal plants first and foremost, and there is no better place than the primary rainforest that Rainforest Healing Center calls home, to do just that.
Jessica Brown, MA, MFTI - USA
Off-Site Admin
Jessica is a lifelong seeker, lover, and space holder. She is a practicing holistic psychotherapist and a doctoral student in the Bay Area with a deep reverence for plant medicine and their indigenous protectors. After working with the vine remotely for several years, Jessica ventured to the Amazon first in 2015 to get to know the vine in her natural habitat and it was love at first purge!
Jessica's path to wholeness was laden with many obstacles, beginning with a very traumatic and challenging childhood. As it so often happens, she repeated the patterns of abuse and addiction she learned through family and culture for much of her young adulthood. Her traumatic history caused Jessica to close her heart, lock it and throw away the key! Her experience with ayahuasca allowed her to face herself and open her heart to love, in a powerful way—and she needed a powerful dose to melt all her armor!
Jessica is a strong advocate for medicine community and integration support—the vine can "show you," but you will have to do the work! She chose to work with the Rainforest Healing Center because of its incredible community support and integration care.
You can learn more about Jessie through her psychotherapy website here.
Omar Gomez - USA (Currently)
Founder
Omar is an avid traveller, lover of adventure, and a true visionary. Omar's past is as dynamic and diverse as you can imagine, with each experience leading him, unknowingly, to opening a healing center deep in the jungle!
In 1993, Omar moved to the Mexican Caribbean where he pursued an underwater career. He became an underwater cave explorer, technical/tri-mix scuba diving instructor and owned a profitable dive shop on the island of Cozumel. He learned the ins and outs of guiding, safety and small group retreat curation.
He then found himself managing a law firm in Chicago and Dallas! He learned leadership, expert judgement and perseverance.
In 2005 while on a 2 year sabbatical, hitchhiking from Cancun to the Patagonia, he came across Iquitos, Peru. He was fortunate enough to study and heal with the incredibly powerful maestra, Nora Panduro. Omar was profoundly moved by his healing experience with his maestra, and it was right then and there, that the medicine wrote his future in his book of life. Through a series of synchronistic events, the 92 plus acres of primary rainforest that we now call home, was given to Omar with the explicit direction that it be made into a healing center so that the healing of the master plants could be more accessible to more people.
The project lay dormant until 2011 until spontaneous and corresponding visions of Gerik Spiquel and Cameron Gaberoglio (our Deaf retreat facilitator) revived it. With the guidance of the master plants and close collaboration with one another, Omar, Gerik, and Cameron built the center from the ground up. Along the way, many heart-centered helpers with a similar vision have joined forces with Omar to make Rainforest Healing Center a vibrant reality.
Supporting Staff
Many hands make light work, and these gifted souls help on many fronts and we are grateful for their assistance, contributions and gifts.
Amy Durden, MBACP - England
Preparation & Integration Therapist
Amy was drawn to plant medicine work whilst searching for a way to deepen her connection to herself, other people and nature. She travelled to Peru to work with plant medicines in their natural habitat and having experienced deep healing she embarked upon supporting others to integrate their own processes. She chose to make RHC her home because of the loving staff, the amazing land and the healing mission of RHC.
Amy works mostly remotely for Rainforest Healing Center supporting our guests before and after they arrive to our center. She is an experienced and professionally qualified Integrative Counsellor and Psychotherapist (MBACP) and uses her skills to support our participants with pre and post retreat preparation and integration. She works creatively to help her clients connect to themselves, nature and the world at large.
Amy is available for sessions before and after your retreat to help you get the most out of your experience. You may reach Amy at amy@rainforesthealingcenter.com.
Eddy Phimphrachanh, RYT-200, HHC, HLC1, PT - Canada
Facilitator
Before embarking on his journey with medicinal plants in the jungle, Eddy's primary focus in his life was growing his successful businesses. He was driven by the aim to make himself feel worthy in society. Although it bought him external pleasure, he knew he was missing what was most important; love, peace, and happiness. Eddy came to the jungle looking for a deeper sense of meaning in his life.
Eddy did plenty of research and despite the underlying fear of drinking the jungle brew, he decided to take the dive into deep self work at Rainforest Healing Center. It was a tough experience, but he can honestly say now: "sometimes you need to be shaken up and broken down so a message can sink into your heart".
After his experience at RHC, Eddy reworked his life and goals toward inner peace and away from external successes. Luckily, for us, that meant Eddy's return to RHC in the role of facilitation! Eddy's background in yoga, training in life coaching, and deep work with medicinal plants inform his grounded approach to facilitation. But, most of all, Eddy's huge heart and willingness to be present with the learning opportunities that life offers, help him hold a safe space for our guests while they embark on their own healing path.
Tigre Pickett - USA
Photography, Web & Graphic Designer
Tigre first encountered Omar in Karma Cafe in the hustle and bustle of Iquitos, Peru in 2011. They quickly bonded over their mutual appreciation and fascination with the healing powers of the Amazon, and their mutual interest in preserving the gift to humanity that it is.
Since then, Tigre has lent his graphic and web design skills to RHC. He designed and created the logo inspired by Shipibo weavings, the blue morpho butterfly and the vine herself. Tigre also lends many of his photos of the center from his multiple visits for you to enjoy.
Tigre also has helped contribute, alongside Francine Lee, to the Replanting Ayahuasca Project to help document and locate existing Ayahuasca vines and to help identify ideal growing conditions for the vine.
When Tigre isn't working his digital artistic magic, he can be found working alongside his wife, Lola Medicine Keeper with their shamanic healing practice in Southern California. They have led two retreat groups to RHC and look forward to many more as their work continues to grow.
Ayahuasca Retreats Designed For Healing