Master Plant Isolation Diet
With Olinda and Estaban - Amazon and Don Joel Paredes - Amazon
November 18 - 28, 2019
Isolation Master Plant Diets and Initiation
At the Rainforest Healing Center, we currently offer three Master Plant diets:  Ajo Sacha, Chiric Sanango, and Uchu Sanango.  The decision to administer one of these diets is based on careful observation, discussion, and analysis by our Shaman and administrator.
When the diet is initiated, one will go into isolation in their Tambo (jungle bungalow) for eight days with no contact with anyone except the Shaman administering the diet.  The Mind, Body, and Spirit will go through an intense cleansing and reboot while opening new doors within the Self and the Spirit realm.
These diets require full commitment, dedication, and discipline from beginning to end, and can be a very difficult and challenging journey.  Dieting guests will be carefully monitored throughout the eight-day period and will receive expert support from the Shaman.
Please understand that Master Plant diets are for those who have experience with Madre Ayahuasca and want to take their healing to the next level.  These diets are for those who feel a strong draw toward a specific plant or have a certain ailment they feel a plant diet could help heal.  We screen very carefully to make sure an isolation diet is a good fit for all involved.
Shamanic Consultation
Customized Master Plant Diet Program
Harvesting and Preparing your Master Plant for Diet
Ajo Sacha Welcome Bath
Solitary Jungle Tambo w/ Bath
All Meals, Water, Tea
One-on-One Integration Support co-lead with Shaman During Retreat
Gifts and Educational Items
Post-program Counseling for Integration
Pick Up/Return to Iquitos
Leaders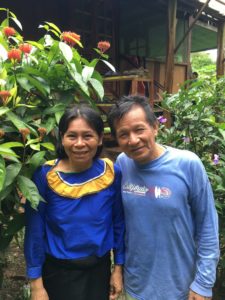 Olinda and Estaban – Amazon
ESTEBAN SHANEN MESTA Esteban started walking with a sacred medicine with this grandfather, Olivero Garcia Shanen who was a respected healer in his community. With his grandfather, Esteban learned with sacred rituals of ayahuasca. At 17, he was initiated to conduct ceremonies jointly with his grandfather. At 24, his grandfather died and Esteban became the official 'curandero' or healer of his community Esteban has done various rigorous Master Plant Diets; Chiric Sanango, Bobinsana, Huayruro, Kamalanga, Uchu Sanango, Chuchuhuasi, Remo Caspi, Ayahuma, Ajo Sacha, Huara Caspi, Pinion Colorado, and the legendary master tree Nihue Rao. OLINDA NETE AVE Olinda was…
Learn more about Olinda and Estaban – Amazon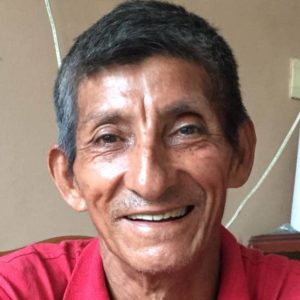 Don Joel Paredes – Amazon
Don Joel has been living and working with the plants of the rainforest outside of Iquitos for over 40 years. He is the Shaman and guide for the community of El Huambé, where he spends most of the year. He first learned the wisdom of the plants through his mother, who was a powerful vegetalista (a healer that works only with plants, not ayahuasca). His mother taught him and his sister, who is another well known curandera, residing in Tarapoto. After many years of working with the plants of the jungle and dieting various master plants in isolation, Don Joel…
Learn more about Don Joel Paredes – Amazon